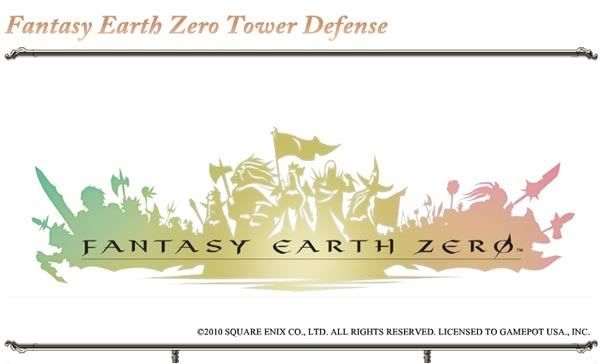 Here I'm gonna introduce a tower defense on Facebook, the "
Fantasy Earth Zero Tower Defense
".
Fantasy Earth Zero ファンタジーアース ゼロ is a MMO game developed by Fenix Soft, released in year 2006 by Square-Enix. However, few months after release, Square Enix canceled the game because of severe lack of demand. The publishing rights to the game were later bought by Gamepot, where the game has enjoyed much greater success as they dropped the subscription based element present when under Square Enix's PlayOnline service, and became a Free to Play game.
US players were finally able to get in on the action when Square Enix and Gamepot USA announced a partnership to deliver this free to play MMOG - Fantasy Earth Zero on January 12, 2010 and it was officially launched in US on May 18, 2010.
Early of January 2011, Gamepot USA announced the new Fantasy Earth Zero Tower Defence game for Facebook. Like common tower defense, you win the game by defending the castle, and killing all enemies charging the castle. You will lose if your castle's HP reduced to 0 by the enemies.
The graphic is quite nice with the good sound effect, and the animation is smooth and look real comparing to other Facebook's games. Some buildings in the can be used for summoning special units, but so far the units you can build are too little, just wondering they will be adding more in the future. I'm just started the game, and I don't have any friends playing it, so my friend list is 0. Add me if you look for companions of this game.
Facebook Email: sephiroth_y [@] yahoo.com
Try the game here
Official Site
---